The Aging and Disability Resource Center of the North staff
can provide support for individuals with dementia, family caregivers and the community at large.
Dementia Care Specialist Brochure (PDF)     ADRC of the North Brochure
On this page you can find information about the programs offered by the Aging and Disability Resource Center of the North focused on dementia related issues.  You will also be able to learn more about dementia through video's, printable documents and helpful links.
We hope you find this information helpful and if you have any questions please contact us toll free at: 1-866-663-3607.  Our friendly staff will be happy to assist you.
Click on the links below for more information:
Basic Information                                              Brain Health
Memory Screens                                               Video Clips
Family Caregivers                                              Helpful Documents
Individuals with Dementia                               ADRC-N Web Links Page
Memory Cafes                                                    Dementia Friendly Communities
Event Calendars              
Family Caregivers
Memory Care Connections Brochure    
The goal of the Memory Care Connections research program (a replication of the NYU Caregiver Intervention)  is to provide knowledge and support to the people caring for their loved-ones with dementia.  When family members who are also caregivers receive support and services they need, the person with dementia also benefits.  Programs like Memory Care Connections has shown to be effective in delaying the need for nursing home care.
Program Overview
Memory Care Connections is a program for a live-in caregiver caring for a loved one with dementia and their family members. It is facilitated by our Dementia Care Specialist in your home or location of choice to best meet the needs of the caregiver through support, guidance and education.  Call 1-866-663-3607 for more information about Memory Care Connections.
Memory Care Connections is a 6-session counseling program that evolved from the experience of clinicians at New York University School of Medicine.  The study found that caregivers who participated in the program experienced many benefits—including fewer symptoms of depression and stress, as well as better physical health—compared with those who did not participate. They also reported increased satisfaction with the emotional and practical support they received, as well as increased closeness to their families. As a result of the program, many caregivers were able to postpone or avoid placing their spouses in residential care.
Here is a visual timeline of the Memory Care Connections program…
Memory Care Connections Timeline (PDF)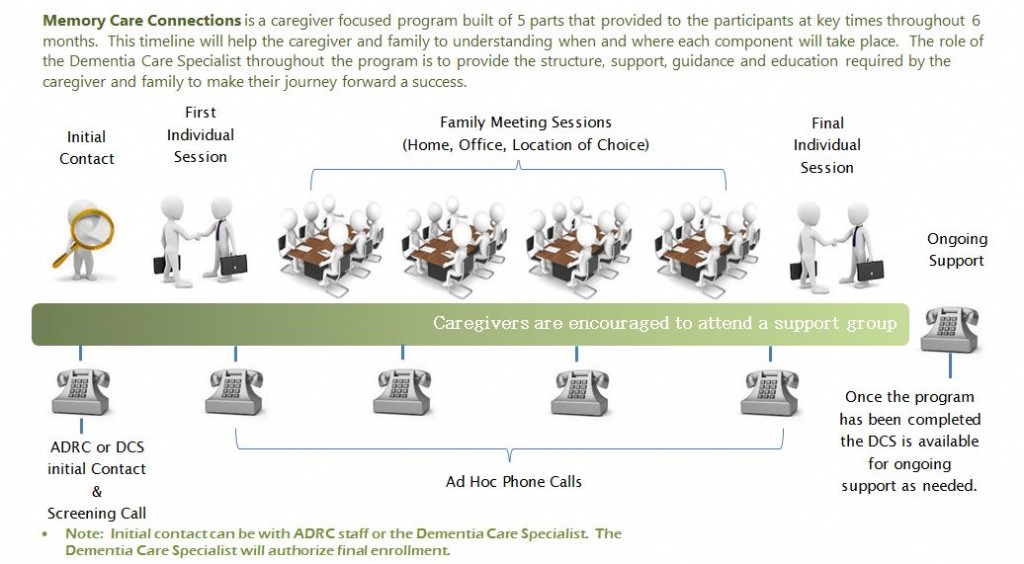 During the program our  Dementia Care Specialist will:
– Assess your situation and discuss your concerns.
– Help you and your family understand Alzheimer's disease and related dementias and how the disease may progress over time.
– Work with you and your family on developing a plan that supports you.
– Discuss strategies, provide coping tools and problem solving skills that will help reduce stress.
– Assist you in obtaining community resources and supportive services.
– Be just a phone call away.
The Memory Care Connections program is available in Ashland, Bayfield, Iron, Price & Sawyer Counties.
Watch the video clip to hear from the founders of the program and see how it has helped us help you…
Helpful Web links for Caregivers:
 Memory Screens

The Aging and Disability Resource Center of the North staff has been trained and certified to provide memory screens. The screening tool that we use takes about 15 minutes of your time.  Staff will review the screen with you and provide information and resources for supporting your brain health.
Why have a screen done?
Think of the memory screen as a wellness tool, like a blood pressure, cholesterol, or stroke screen. You can have a memory screen done if you have concerns, a family history, or before you notice memory loss symptoms to establish a baseline that you can refer to in the future. Knowing your cognitive baseline allows you to become proactive in monitoring your brain health. Memory loss caught early can mean more control of your life and a higher quality of life.
What if the screen shows areas of concern?
The screening tool used at the Aging and Disability Resource Center of the North does not diagnose dementia. It provides an assessment of how your brain is functioning in a single moment. There are many reasons why a screen might detect cognitive or memory concerns, such as stress, sleep imbalances, challenges in vision or hearing, chronic pain, medication side effects…. The list goes on.
If concerns are noted, the staff who administered the screen will  share some possible causes related to the screen results and refer you to a qualified health care provider. Memory screens are confidential but can be shared with your health care provider if you choose to do so. A medical provider is the only person who is able to provide a dementia diagnosis, and this is commonly done only after other possible causes of cognition or memory changes have been ruled out. If, upon further evaluations by a medical professional, it is determined that you have dementia or mild cognitive impairment, you can be proactive in developing a support system and become involved in early intervention programs that may slow the challenges experienced with dementia.
National Memory Screen Day
The Aging and Disability Center of the North participates in the National Memory Screen Day each year. It is generally held on the third Tuesday in November. Last year there were 144 people who attended the sites for either a screen or more information.  Here is a video clip that talks about a prior year's event.
Cognitive screening

Where can I get a Memory Screen?

Screens can be done in our offices or in your home.
Call our friendly staff at 1-866-663-3607 to set up a time to have your screen completed.
We recommend an initial baseline screen and then a re-screen every year to monitor your brain health.

How much do the screens cost?

The memory screens that we provide are free of cost.

I have more questions about the screen… How can I learn more about it?

Please contact the ADRC of the North at 1-86-663-3607 and our staff will be happy to answer any questions you may have.
 Individuals with Dementia
LEEPS Brochure (PDF)                    LEEPS Poster (PDF)
Language Enriched Exercise Plus Socialization (LEEPS) is a program developed to aid in improving or maintaining a person's physical and brain health.  Trained volunteer(s) will assist individuals in their home and community with a customized exercise program developed by a physical therapist along with you primary care provider.  Studies show that improving your physical strength and brain health may reduce a person's risk of falls and improve one's overall mood.
The LEEPS program has two main components; the exercise/cognitive stimulation session and the outing in the community.  Each part takes place on a different day. Volunteers are responsible for assisting program participants to complete each of the two main components every week.
LEEPS Brochure
Independence
Research opportunities
One way to stay independent longer is to keep the body active. Animal testing shows a connection between exercise and the brain. Dr. Michael Raab works with the aging brain.  Preliminary research is showing much the same in humans; that staying physically fit may slow brain shrinkage.
Dementia Friendly Communities
This section of the webpage will cover the "why" and "how" behind community awareness and support for our friends, families & neighbors.  As you will see below, our community is aging. As the greatest risk factor for developing some type of dementia is "getting older", we need to start making changes now to support us tomorrow.
Increased civic awareness of dementia related issues
View this video clip to experience the difference a Dementia Friendly Community can make for a person with early cognitive changes when when attempting to complete daily tasks in their local community.
Demographics
Our state is aging at a fast rate.  Compare the pictures below that show the change in our population over the next 20 years.  The dark blue indicates a high percentage of people over the age of 65.  Click here to go the the Wisconsin DHS website for more information.  We need to be prepared for the challenges that are associated with increased age.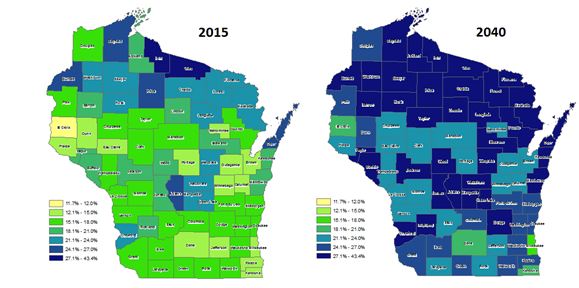 Wisconsin's Dementia Care System Redesign
Full PDF "Wisconsin Dementia Care System Redesign"
Memory Cafes
 What is a Memory Cafe?
A
Memory Cafe is a wonderfully welcoming place for individuals with Alzheimer's or other types of the dementia/brain disorders, as well as people with all forms of mild cognitive impairment.
Each Memory Cafe focuses on different aspects for a unique experience. You may find some are focused on education and others may be activities-based, such as demographic-appropriate music and dancing, crafts, or painting.
Here is a calendar link if you wish to add any of these cafes to your calendar: Memory Cafe Calendar Link
Dementia Friendly Businesses
The Dementia Friendly Business/Agency training program is facilitated by your local Dementia Network.  We have 4 coalitions in our 5 county region (Ashland/Bayfield, Hayward, Phillips & Hurley).
Your business/agency can become dementia friendly in a couple of ways:

Provide a "Lunch~N~Learn" for your staff.
Have a member of your staff participate in the "Train the Trainer" program and train your current and future staff in house.

Once your business/agency has completed the training and at least 75% of your staff is trained, you will receive a certificate and a packet of information and resources that your staff will be able to refer to.
Our goal is to provide you and your staff the awareness to identify a customer or consumer who may be having some cognitive challenges, and know how to best assist them while they are at your business or agency.
Please contact your local dementia network coalition for more information.  If you are not sure who to contact, our friendly ADRC staff will assist you in finding the right contact.
Dementia Capable Emergency Response
Wisconsin Silver Alert Program:
Wisconsin Silver Alert Program:  View the video clips below to hear more about the program. If you would like to sign up to receive Silver Alerts, visit the "Crime Alert" website.


Project Lifesaver:
A public safety program designed to protect and locate missing persons due to wandering.  Contact your local law enforcement agency to find out if project lifesaver is available in your area.
 Basic Information
Memory changes or other changes in how our brain works can be scary. Understanding the difference between "Normal Aging" and "Not Normal Aging" is the first step in sorting out these changes.  There are many reasons why these changes take place.  In this section, you will be able to learn more about that and other dementia facts through printable documents, video clips and links to other websites.
Dementia is not part of normal aging.  It is a disease.  There are other medical conditions that may mimic the signs and symptoms that we normally associate with dementia.  It is our responsibility to make sure these other factors are addressed and being treated by a health care provider. Here is a picture that compares "Normal Aging" vs. "Not Normal Aging":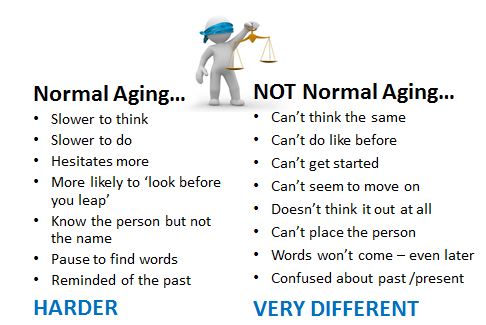 This picture shows side by side the differences between normal and not normal aging.  If you find yourself or someone else with similarities in the left column, contact the ADRC of the North for more information on memory screens or resources on a how to receive a thorough medical assessment.  View the videos below for more information.
Know the 10 Signs
Early detection matters. Knowing the early signs of dementia will help identify if there is a need for a more comprehensive evaluation. The Alzheimer's Association offers a free, online training to learn about the 10 Warning Signs of dementia.  Click Here to go directly to this training opportunity on the Alzheimer's Association website.

Brain Health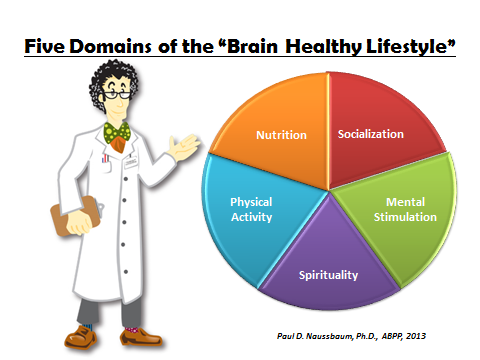 Keep a balance of all 5 areas…
Often we find that we have one or two pieces of this pie that are larger than the others…
Try to find a way to increase the smaller slices to bring your brain health back to balance.
Learn more about Dr. Paul Naussbaum's "Five Domains of the Brain Healthy Lifestyle" by downloading "5 Domains of the "Brain Healthy Lifestyle"
Wisconsin's Evidence-Based Health Promotion Programs for Older Adults
What does "Evidence-Based Health Promotion" mean?
Evidence-based health promotion programs are interventions that are based on evidence that is generated by scientific studies.  The evidence shows that the program is effective in preventing disease and improving health.  These programs have gone through a research process to determine if they show the results that are intended by the program.  The program results have also been published in professional scientific journals.
For example:  a program that is designed to increase physical activity among it's participants would be evaluated to measure whether or not a significant increase in physical activity actually happens after the participants complete the program.   For a list of evidence based health promotion programs visit the Wisconsin DHS website by clicking here.
Video Clips
Dementia Network Calendars…
Choose from one of our 4 network calendars below:
»Hayward Area Dementia Network (Sawyer County)
»Ashland Bayfield Dementia Network
»Dementia Friendly Iron County Network
»Price County Dementia Network
If you would like to contact one of the networks please use the gmail account that correlates with the appropriate calendar.
If you wish to add an event to one or more of our calendars:
Find the calendar you need.
Send a calendar request to the appropriate gmail account.
Requests will be reviewed and accepted.
If request is not accepted an explanation will be mailed back to the senders email.
It is up to the sender to keep the event current and updated.
Ashland Bayfield Dementia Network
Hayward Area Dementia Network
Find the area you're interested in, then click below to see the Memory Cafe Flyer.
Price County Dementia Network
Dementia Friendly Iron County
Documents
>