The Aging and Disability Resource Center of the North staff
can provide support for individuals with dementia, family caregivers and the community at large.
Dementia Care Specialist Brochure (PDF)    
On this page, you'll find dementia-related information and programs offered by the ADRC of the North. You will also have the opportunity to learn more about dementia through videos and helpful links. If you have questions, please contact us at 1-866-663-3607 and our friendly staff will be happy to assist you.
Dementia

Memory changes or other changes in how our brain works can be scary. Understanding the difference between "Normal Aging" and "Not Normal Aging" is the first step in sorting out these changes.  There are many reasons why these changes take place.
Dementia is not part of normal aging.  It is a disease.  There are other medical conditions that may mimic the signs and symptoms that we normally associate with dementia.  It is our responsibility to make sure these other factors are addressed and being treated by a health care provider. The video below offers a brief overview:
Here is a picture that compares "Normal Aging" vs. "Not Normal Aging":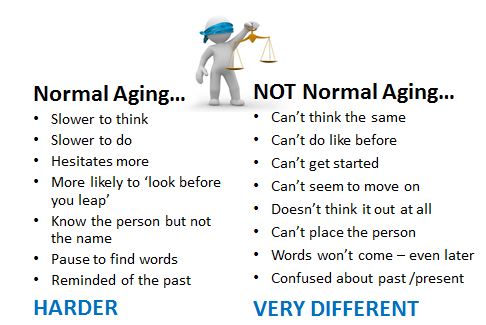 If you find yourself or someone else with similarities listed in the left column ("Not Normal Aging"), contact the ADRC of the North for information about Memory Screens or Memory Clinic resources.
Know the 10 Signs
Early detection matters. Knowing the early signs of dementia will help identify if there is a need for a more comprehensive evaluation. The Alzheimer's Association offers detailed information about Early Signs and Symptoms; click here to learn more.
Brain Health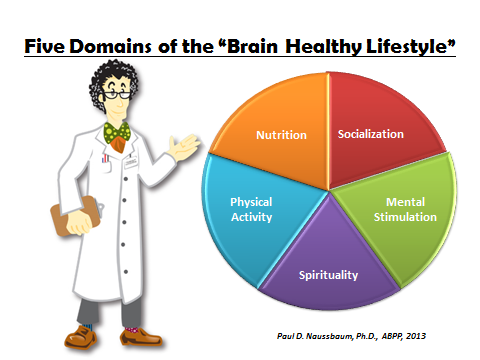 Often we find that we have one or two pieces of this pie that are larger than the others…
Try to find a way to increase the smaller slices to bring your brain health back to balance.
Learn more about Dr. Paul Naussbaum's "Five Domains of the Brain Healthy Lifestyle" by downloading "5 Domains of the "Brain Healthy Lifestyle"
Memory Screens

ADRC of the North staff has been trained and certified to provide Memory Screens. The screening tool that we use takes about 15 minutes. Staff will review the screen with you and provide information and resources about supporting your brain health.
Download a Memory Screen brochure here.
Why have a screen done?
Think of the memory screen as a wellness tool, like a blood pressure, cholesterol, or stroke screen. You can have a memory screen done if you have concerns, a family history, or before you notice memory loss symptoms to establish a baseline that you can refer to in the future. Knowing your cognitive baseline allows you to become proactive in monitoring your brain health. Memory loss caught early can mean more control of your life and a higher quality of life.
What if the screen shows areas of concern?
The screening tool used by the ADRC-North does not diagnose dementia. It provides an assessment of how your brain is functioning in a single moment. There are many reasons why a screen might detect cognitive or memory concerns, such as stress, sleep imbalances, challenges in vision or hearing, chronic pain, medication side effects…. The list goes on.
If concerns are noted, staff will share possible causes related to the screen results and refer you to a qualified health care provider. Memory screens are confidential but can be shared with your health care provider if you choose to do so. A medical provider is the only person who is able to provide a dementia diagnosis, and this is commonly done only after other possible causes of cognition or memory changes have been ruled out. If, upon further evaluation by a medical professional, it is determined that you have dementia or mild cognitive impairment, you can be proactive in developing a support system and become involved in early intervention programs that may slow the challenges experienced with dementia.
Below is a video clip about Memory Screens:
Where can I get a Memory Screen?

Screens can be done in our offices or in your home. Call our friendly staff at 1-866-663-3607 to set up a time to have your screen completed.

How often should I have a Memory Screen?

We recommend an initial baseline screen and then a re-screen every year to monitor your brain health.

How much do the screens cost?

The Memory Screens that we provide are FREE.
Family Caregivers

The goal of the Memory Care Connections research program (a replication of the NYU Caregiver Intervention)  is to provide knowledge and support to the people caring for their loved-ones with dementia.  When family members who are also caregivers receive support and services they need, the person with dementia also benefits.  Programs like Memory Care Connections have shown to be effective in delaying the need for nursing home care.
Memory Care Connections is a program for a live-in caregiver caring for a loved one with dementia and their family members. It is facilitated by our Dementia Care Specialist (in your home or location of choice) to best meet the needs of the caregiver through support, guidance and education.
Download the Memory Care Connections brochure here.
Helpful Web links for Caregivers:
Individuals with Dementia
Language Enriched Exercise Plus Socialization (LEEPS) is a program developed to aid in improving or maintaining a person's physical and brain health.  Trained volunteer(s) will assist individuals in their home and community with a customized exercise program developed by a physical therapist along with you primary care provider.  Studies show that improving your physical strength and brain health may reduce a person's risk of falls and improve one's overall mood.
The LEEPS program has two main components: the exercise/cognitive stimulation session and the outing in the community.  Each part takes place on a different day. Volunteers are responsible for assisting program participants to complete each of the two main components every week.
Download a LEEPS brochure here.
Dementia Friendly Communities
This section will cover the "why" and "how" behind community awareness and support for our friends, families & neighbors. As you will see below, our community is aging. As the greatest risk factor for developing some type of dementia is "getting older", we need to start making changes now to support us tomorrow.
Increased civic awareness of dementia related issues
View this video clip to experience the difference a Dementia Friendly Community can make for a person with early cognitive changes when when attempting to complete daily tasks in their local community.
Demographics
Our state is aging at a fast rate.  Compare the pictures below that show the change in our population over the next 20 years.  The dark blue indicates a high percentage of people over the age of 65.  Click here to go the the Wisconsin DHS website for more information.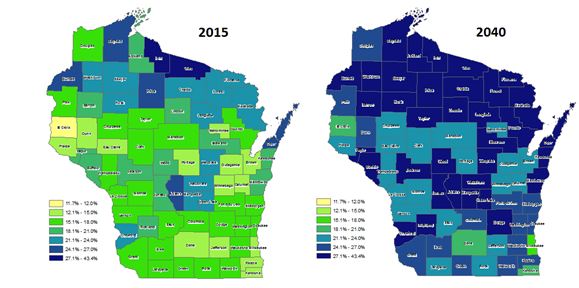 Wisconsin's Dementia Care System Redesign
Full PDF "Wisconsin Dementia Care System Redesign"
Dementia Friendly Businesses
The Dementia Friendly Business/Agency training program is facilitated by your local Dementia Network. Click the following links to learn more about the Dementia Networks in the ADRC-North's region: Ashland/Bayfield Counties, Sawyer County
Your business/agency can become dementia friendly in a couple of ways: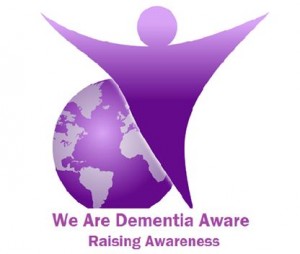 Provide a "Lunch~N~Learn" for your staff.
Have a member of your staff participate in the "Train the Trainer" program and train your current and future staff in house.
Our goal is to provide you and your staff the awareness to identify a customer or consumer who may be having some cognitive challenges, and know how to best assist them while they are at your business or agency.
Please contact your local Dementia Network coalition for more information or contact the ADRC of the North for assistance.
Dementia Capable Emergency Response
Wisconsin Silver Alert Program:
Wisconsin Silver Alert Program:  View the video clips below to hear more about the program. If you would like to sign up to receive Silver Alerts, visit the "Crime Alert" website.

Click here to watch a video regarding the start-up of he "Silver Alert".

Click here to watch a video regarding a recent success as a result of the "Silver Alert".
Project Lifesaver:
A public safety program designed to protect and locate missing persons due to wandering.  Contact your local law enforcement agency to find out if Project Lifesaver is available in your area.